Why herstroll?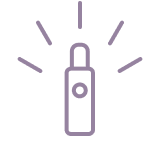 Incredibly Loud
Super loud, 130db siren (as loud as a jet engine) in a quick instant the alarm would scare anyone off, once activated stays on for a straight hour. Makes sure you're heard.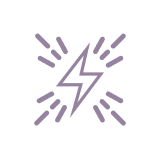 Stunningly Bright
A flashing strobe light to deter attackers. Bringing attention to you and getting you noticed.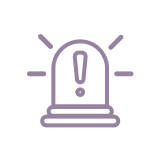 That Loud
130 decibels is like standing just 100 feet away from a military jet taking off! As you can imagine this also means that the noise can be heard from very far.
Meet HerStroll
Why was the HerStroll Alarm created?
We created the HerStroll personal safety alarm because of the heartbreaking statistics. 1 in 4 women in England has experienced assault since the age of 16. We envision a world where you live your life with less fear.
The HerStroll Alarm puts safety in the palm of your hands. Whether going for a walk, running solo, out late at night, or early in the morning. An easy pull of the alarm and a screaming siren stuns an attacker, alerts people nearby, and gives you a way out.
How does it work?
Feeling Uncomfortable?
Quickly pull the top of the alarm, and a screaming siren stuns an attacker.
Always trust your gut and activate the alarm to disrupt the situation.
A loud 130dB alarm will ring as loud as a jet engine that can be heard from over 600ft. 
A bright flashing light to attract attention and continuously flashes for up to 45 mins.
When you feel safe, simply put the top back in to stop the alarm.
TESTIMONIALS
Creating a world
of fearless females.
"Such a great product, feel safer walking my dog alone at dusk and my teenage daughter uses this alarm too, everyone likes to have an extra piece of mind, especially in current times,
thank you 🐾💖"
"I love this little alarm! Such a good design, easy to attaches to my bag and makes me feel reassured knowing I have it. I'd recommend it to anyone 💗"
"Absolutely love it! Small and stylish. Easily clips on to anything including our dog lead or my handbag. Very loud and love that it has a flashing light too. Highly recommend ⭐️⭐️⭐️⭐️⭐️"
FAQ
Frequently Asked Questions
•Please, try it now, the experience will prepare and empower you.
•To activate the alarm, pull the removable top from the alarm. 
•The alarm will emit a extremely loud 130db sound; the light will flash. Keep the speaker uncovered and face it toward your target.
•To stop the alarm, return the top into the alarm.
The HerStroll Alarm will last for up to 2 years on standby. This is double the industry standard! When activated the Herstroll Alarm will last for up to an hour continually.
Replacing the HerStroll alarm batteries is quick and easy.
1. Simply twist the pin on the top of your alarm both ways to release the front and back.
2. Remove the two internal screws.
3. Insert two CR2032 batteries.
4. Replace the screws, and snap the alarm casing back together.
Yes! We offer free shipping on all orders of 2 or more alarms!
REVIEWS
What our customers are saying…