The HerStroll Alarm is suitable for daily purposes and provides you with the peace of mind that you have a loud alarm at your fingertips. In fact, the alarm is set to 130dB — sure to attract the attention of passersby if you're in danger.
HerStroll comes with a keychain to transition with you from day to night––around town, on the trails, across campus, and out at night.
UK Orders
European Orders
USA Orders
Rest of World
Why Herstroll ?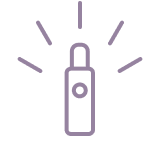 Portable
Lightweight and easily portable. Clips onto your key, purse or bag. Easier to use than pepper spray.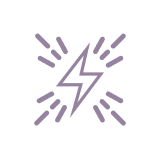 Stunningly Bright
A flashing strobe light to deter attackers. Bringing attention to you and getting you noticed.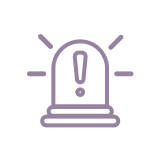 Incredibly Loud
Super loud, 130db siren (as loud as a jet engine) in a quick instant the alarm would scare anyone off, once activated stays on for a straight hour. Makes sure you're heard.
My HerStroll Personal Safety Alarm is perfect for my needs and has given me the confidence to walk my dog on my own when I need to. It's compact design means I can easily clip it to my keys or clothing then head out with a great sense of protection. Despite being compact it really does pack a punch! The siren is so LOUD and would scare off any would be attacker and along with its strobe light would certainly get the attention of passers by.
Anne L.
WHY US
Feel Safer, Secure and Be Heard.

PORTABLE
Lightweight and easily portable. Clips onto your key, purse or bag. Easier to use than pepper spray.

FUNCTIONAL
Easy to activate, just by pulling the top activate a loud siren and a flashing light that makes sure you're seen and heard, but still has a stylish design.
FAQ
Frequently Asked Questions
•Please, try it now, the experience will prepare and empower you.
•To activate the alarm, pull the removable top from the alarm. 
•The alarm will emit a extremely loud 130db sound; the light will flash. Keep the speaker uncovered and face it toward your target.
•To stop the alarm, return the top into the alarm.
The HerStroll Alarm will last for up to 2 years on standby. This is double the industry standard! When activated the Herstroll Alarm will last for up to an hour continually.
Replacing the HerStroll alarm bateries is quick and easy.
1. Simply twist the pin on the top of your alarm both ways to release the front and back.
2. Remove the two internal screws.
3. Insert two CR2032 batteries.
4. Replace the screws, and snap the alarm casing back together.
Yes! We offer free shipping on all orders of 2 or more alarms!
USER REVIEWS
What our customers are saying…